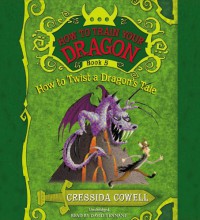 How to Twist a Dragon's Tale is the fifth "How to Train Your Dragon" book, and the first I did not listen to as an audiobook. As in there was a distinct lack of David Tennant. I accidently added the audiobook version of the book when I first put it on my shelves because I was so used to them. For whatever reason in the audible sale where I picked up the series they did not have book 5. They did have the next two at least.
This is still a fun series and the published book has drawings throughout it of the different characters and scenes from the book. The drawings are terrible, but considering I struggle with stick figures, I am not going to be pointing any fingers.
This story deals with erupting volcanos, exterminator dragons, heroes from the past, and an old enemy. It was a fun book, but I need David Tennant's narration in my life. I look forward to hearing him again.